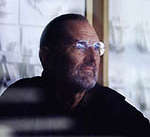 Thom Mayne has been named
Pritzker Prize
laureate of 2005.
Photo: Mark Hanauer

- This year's choice for
Pritzker
Prize laureate is Los Angeles architect
Thom Mayne
. He is known for breaking through traditional bounds of forms and materials, and his work has been chosen for numerous awards during his three-decade career. Mayne is principal of
Morphosis
, meaning "manner of formation." The firm's recent built works to capture media attention include the
Diamond Ranch High School
, the Caltrans District 7
..............Read More!
Tags:
Design
.
Architecture
.
Awards
(Source: ArchitectureWeek)