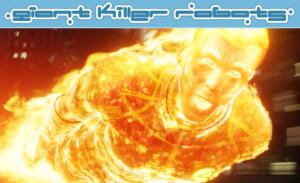 GIANT KILLER ROBOTS UNVEILS STUNNING PHOTO-REAL VISUAL EFFECTS
FOR 20th CENTURY FOX'S, FANTASTIC FOUR


- SAN FRANCISCO - July 8, 2005 - Giant Killer Robots (GKR), an Oscar and Emmy award-winning visual effects boutique in San Francisco, is lead VFX house for 20th Century Fox's highly anticipated summer blockbuster, Fantastic Four, opening nationwide today. As the primary VFX vendor, GKR delivered the film's most challenging and photo-realistic effects. GKR created and developed the intricate fire tools used for the Human Torch and the evil Dr. Doom's Death Ray powers. GKR also created a virtual New York City for the key action sequences.Due to the immense technical difficulties of creating believable characters, particularly the Human Torch, die-hard fans of Marvel Comic's have waited for decades for the fantastic foursome to appear on Hollywood's big screen----until now. GKR's crack team pioneered the way, building proprietary tools and techniques that vividly brought the Fantastic Four to life. GKR had the arduous task of delivering the most complex and technically challenging shots:
-All the fire effects associated with Johnny Storm a.k.a. the Human Torch;
-Dr. Doom's power to absorb and re-direct electricity;
-The Virtual Manhattan environment where the colossal battle and chase sequences takes place.

"Bringing the classic comic book superheroes and their arch-rival, Dr. Doom, to the big screen was a Herculean task - a long-time in the making," said Pete Oberdorfer, F4 VFX Supervisor and founding partner of Giant Killer Robots. "We knew that the legions of Fantastic Four fans would hold us to an exceptionally high standard and we did not want to disappoint them." For the Human Torch, GKR invented a first-of-its-kind effect to successfully capture the organic properties of fire, generating natural-looking flames. Using a 3D laser scan of the actor, GKR developed a 3D model to perform superhuman stunts, then applied their breakthrough tools that simulate the laws of fluid dynamics to recreate the unique look, feel and movement of fire - transforming the model into the Human Torch. Dr. Doom and the evil energy he projects from his hands is a landmark of comic book villainy. Knowing this, GKR worked directly with the director Tim Story to maintain Doom's old school menace and update it with cutting edge technology. Wanting to stay within the laws of physics and have a spectacular effect was an especially difficult challenge. In the end, Dr. Doom's diabolical power stays true to its comic book beginnings, yet updates it for a twenty-first century audience. For the pivotal fight scenes in and above New York City, GKR developed a photo-realistic, immersive environment. The movie's script called for many events that were physically impossible to shoot in New York City. Thus, a virtual New York was needed to allow the characters to fall from the sky, shoot down city streets, and cause havoc in downtown Manhattan. In order to map out the look and feel of New York, GKR used a helicopter to capture aerial footage of the city's skyline and took thousands of photos from building tops and at street level. From this library of raw materials, GKR was able to recreate the distinct character of New York City. "From the beginning, we knew this project required state-of-the-art visual effects. We needed the Johnny's and Doom's superpowers to look awesome," said Kurt Williams, Visual Effects Director, Fantastic Four. "I've worked with GKR before, and I knew they would deliver the goods. Their work looks spectacular."In total, GKR generated nearly 200 shots that are in the feature film. GKR continues to win high-profile projects and create technically challenging, innovative, and imaginative visual effects. Their past credits include: Son of the Mask (New Line Cinema), Blade Trinity (New Line Cinema), The Matrix: Reloaded and The Matrix: Revolutions (Warner Bros.), Scooby-Doo and Scooby-Doo 2 (Warner Bros.), League of Extraordinary Gentlemen (20th Century Fox), Terminator 3: Rise of the Machines (C2 Pictures), the Oscar-winning What Dreams May Come (Warner Bros.), and the Emmy-winning Dreamkeeper (Hallmark) mini-series.