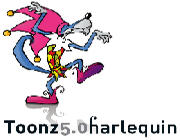 Toonz 5.0 Harlequin Released!!



- Digital Video S.p.A. has released Version 5.0 of their animation software Toonz, the Toonz 4.6 users will get free update. Toonz 5.0 Harlequin is a software born from Digital Video's experience and knowledge of traditional animation to meet the evolution of animation creative and technical standards. Toonz 5.0 Harlequin integrates vector drawings in its traditional workflow based on raster drawings to allow you to step into paperless animation. In a brand new user-friendly environment, animators can now both scan hand-made drawings, and draw from scratch and animate vector drawings; manage super-sized palettes and painting animation levels; compose scenes; move and animate animation levels over background according to the xsheet; move objects like pegbars, cameras and table; add special FX and render out composited sequences by using a render farm.

Toonz 5.0 Harlequin Link

Tags:
Animation
.
2d Animation
.
Digital F/X
.
VFX
.
Cartoons
[ note : CGindia blog will be down for 20min at 4:00Pm PST today, due to Scheduled outage]