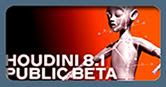 - Side Effects Software, developer of the award-winning Houdini family of

3D software

, is pleased to announce the public beta of Houdini 8.1.This new version features an artist-friendly Auto Rig, Muscle System, Character Picker, and Pose Library, as well as enhancements to the Rigid Body and Wire dynamic solvers......Houdini 8.1 makes its

character tools

more accessible than ever. A new Biped

Auto Rig

tool lets you quickly position your character's joints and generate production-ready rigs at the touch of a button. It creates both an animation rig with built-in proxy geometry for blocking and a separate capture rig for.............
Link
!!
Tags:
Houdini 8
.
special effects
.
FX
.
VFX